I had been planning this trip since November 2016 when I bought a one-way ticket from San Fransisco to Chiang Mai Thailand.  In January I reduced everything in my apartment in Eugene Oregon down to a large rolling duffle bag and a backpack. Everything was either donated or sent to my parents. January 22nd was my last week working for Dyson. Three days after my last day I flew to San Fransisco for a week to see friends and family. February 1st I flew to Chiang Mai Thailand.
Arriving in Chiang Mai
Getting to the Airport, flying and waiting at my layover I felt determined. My friends and family were surprised about my plan. I would answer their surprise with a determined answer. This is what I wanted to do. I was focused on the process of traveling, what I had to do next. Landing in Chiang Mai a panic fell over me. There was nothing next. I was here. I thought of a bunch of bad scenarios. What if I had a visa problem? What if I can't find my hotel? I just spent more than 2o hours flying. I can't go back. This was a moment that I realized that I could only move forward. I told myself that I could figure it out. I would later learn that being confident of uncertain circumstance was a benefit of traveling by yourself.
It took an hour to get through immigration and customs. I got through, withdrew money from an ATM and looked for a Taxi. This would eventually become a post arrival routine, but the first time doing anything you will feel unsure. The taxi was 400 baht, not knowing at the time if that was a good or bad price. I got to my hotel and checked in. Unlocked the door, walked inside my room, put down my bags and I laughed. I felt like I just got away with something. It seemed too easy. An hour and a half ago I was panicking on the plane about what if senators and now in my hotel room in Chiang Mai.
I had done it.
Why Thailand?
I had picked Thailand because of the Visa on arrival. Vietnam was my intended destination but they have more visa requirements there. Everyone talks about Chiang Mai being for Entrepreneurs and Digital Nomads. Many claim it is the place to be if you want to start a business while abroad. After I bought the tickets for Chiang Mai I had learned about a conference: the Digital Nomad Summit.
Working and Traveling
My second day in Chiang Mai was the conference. I had two goals meet as many interesting people as possible and find out how others are making money. The conference was great. I meet a lot of great people and got inspired to work on my next project. Three people, in particular, inspired me and showed me ways to make money: Alondo Brewington a programmer, Katherine Conaway a project manager and writer, and Randy Bechtold an Amazon and e-commerce pro.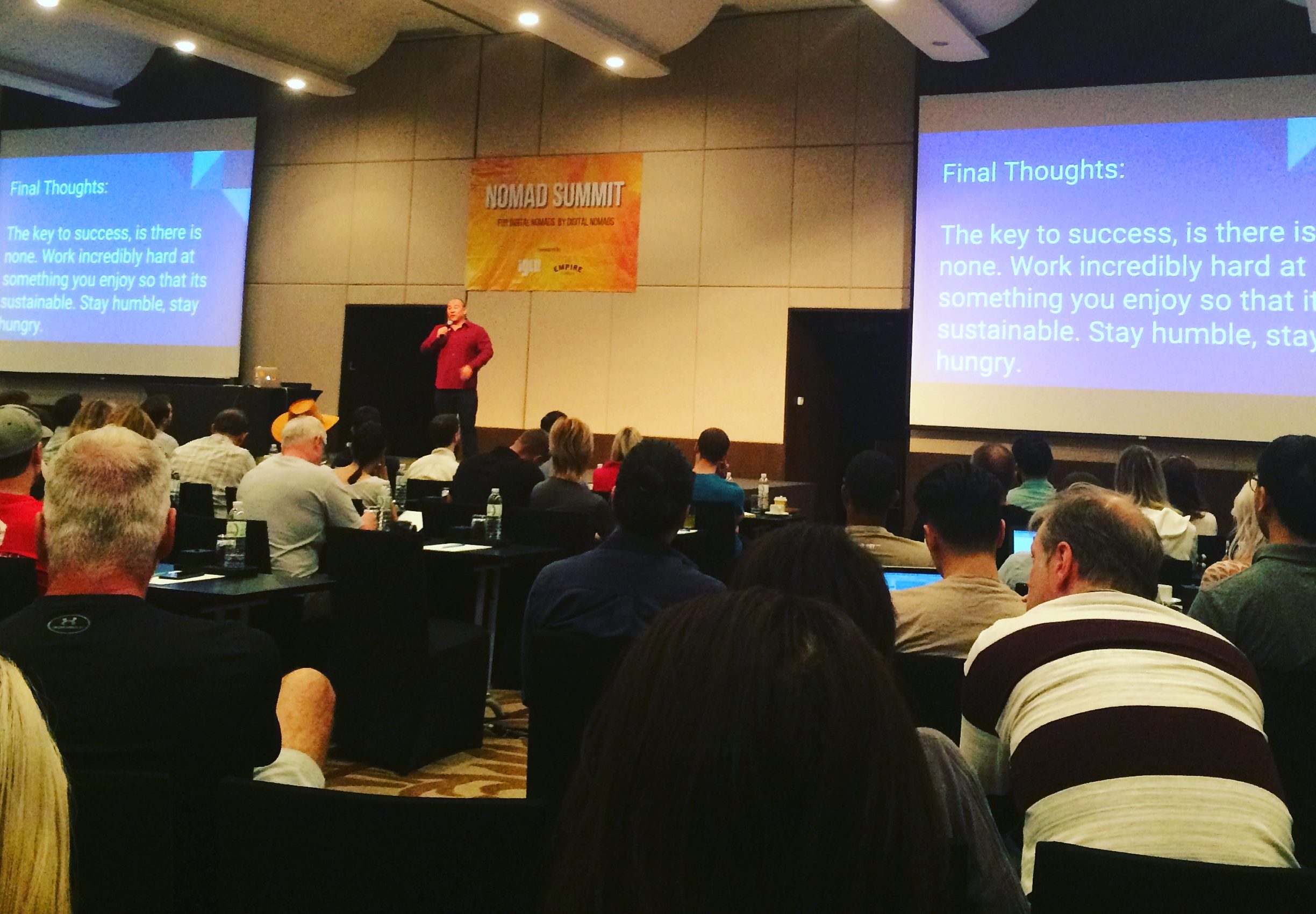 The day after the conference. I got to work. My first project was to make a mobile app. That app would eventually become She Persisted for iOS. Alondo helped me get started and I used a template to save time. I also hung out with my new friends from the conference. There was a post-conference pool party where I meet up with Randy. After giving me some good travel advice I asked him if he wanted to work on a future Amazon product. He agreed and since then we have been working together to launch products. Katherine got me thinking about doing freelance marketing. I was taking a shotgun approach to being a nomad. One of these things was going to work. It had to.
The rest of my time in Chiang Mai I spent with friends and working. I also got to go to the Chiang Mai Zoo, where I fed an elephant. It was one of the most powerful experiences I had. Being that close to an elephant and feeding it I felt that I wasn't feeding a wild animal, I was feeding a person. Elephants are magical.
Bangkok
Slowly friends started leaving one by one. I was one of the last to stay in Chiang Mai. After 3 weeks in Chiang Mai, I went to Bangkok. I get a similar feeling from being in Bangkok as I do in New York City. Both are busy with an element of chaos. That time of city I feel overwhelmed after a day or two. Chiang Mai was calmer. However, there are things you can do in Bangkok you can't do in Chiang Mai such as have a drink on a sky bar and see the whole city.
I really enjoyed my time in Thailand. I met people that that have already changed my life. Originally my plan was to go to Vietnam after Thailand. Because of the friends I met in Chiang Mai they convened me to go to Bali. I learned that while traveling to be flexible and allow plans to change. They typically become better when you are open. February 28th I flew to Bali.